ENOWES 2017 – international youth exchange project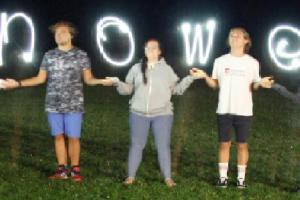 Between the 21st and the 28th of August 2017 an international youth Exchange project was organized in the School of Nature in the village of Kysak. There were 32 partecipants from Spain, Luxemburg, Greece and Slovakia.
The name ENOWES is an abbreviation of cardinals of the world – East, North, West, South. In fact this was the main goal of the Exchange – to compare life and culture in various parts of Europe and to catch cultural variability throughout the lenses of the camera.
The participants of the Exchange have spent a lot of time with the camera. They have gained quick information about compositions, lights, small tricks and tips that make the end photography look better. They have also received information about analog photos and how to work with various types of cameras.
A curious moment was the visit at the museum of cinematography in Medzev and the field trip to Popradské pleso.
During the Exchange partecipants had the opportunity not only to try indoor shooting in a small workshop but also shooting outside, where they tried to catch interesting moments, curiosities but mainly the beauty of Slovakia.
The project was financed from the ErasmusPlus program.