You are democracy!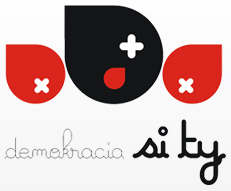 DEMOCRACY is a word we all know. The word we use a lot. We take it for granted. It's hard to answer, however, when somebody asks us "What actually is democracy?".
We had also tried to find the answers. We'd found one simple definition and even though it's not perfect, we find it one of the best. We believe that YOU ARE DEMOCRACY! Democracy is a system when the power comes from people. Hence, from us. From me, from you, from everybody. Nowadays, however, we forget about it, as evidenced by low interest about what is going on in the state, regularly low participation on elections, low knowledge among people.
According to well-known democracy theorist Giovanni Sartori, "…of all political systems, democracy is the one that most crucially hinges on clearheadedness. If so, the theory of democracy is also the unraveling of the messy web of arguments that bear on what democracy ought to be, can be, is not, and should not become…" And that's what we'd like to teach young people here, in Regional Youth Centre.
By means of various activities and trainings we want you to comprehend why the democracy is so important and why we should be interested in what is going on around us. Maybe right now, somewhere, they are deciding about our future. Maybe this is the right time for you to become interested in these things, for you to always be there where there's some action.
In order to give you basic information, knowledge and skills and to help you make your own mindset we have created the complex or system of activities aimed just at democracy and thing related to it. We called this whole system "You are democracy".
Within this complex we are engaged in topics like participation, citizenship, elections and things like that. Since we believe the best opportunity to get practical experience with democracy are the Students' School Councils, we are engaged in educating young people in this field.
More information about everything what happens in RYC and democracy you can find in this part. So feel free to browse. Should you have any questions or want to participate send an e-mail to rcm@rcm.sk.